Saturday 9th April saw several members meeting up at Dawn Bank.
A handful of engines ran on the rails, hot drinks and food were consumed and the sun shone.  
The newly installed off-loading traverser was brought into use for the first time and a big success.
Adam from the Peterborough Society of Model Engineers was invited to join us and he drove his Polly 1 'Emily' on the 5" rails.  Adam brought along his wife, and his 18 month old daughter with him, and she delighted us all.  
It was good to see engines  running on the tracks after the Winter.  
There was Alan H with his scratch built tram on the 7.25" track.
On the 5" track we had Andy W with his LNER Thompson Class L1 and Kev A, along with mascot Louis, were driving their BR Western Region Diesel hydraulic Hymek 'Sandy'.
A few photos below.
---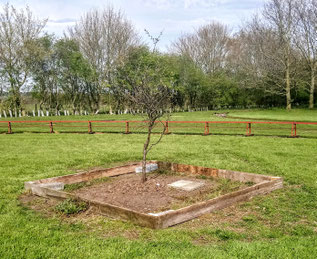 Another tree planted.  This one is a cherry tree and was kindly donated by the Potts family.  So thank you, we hope it will thrive.