Evergreens chose this day to celebrate the 20th birthday of the club, and also, for engine owners from elsewhere to come for a run on our rails, and fantastic locos they were too.
It was a really good day and the weather was just right.  It was great that our classic car friends chose to visit again.
A huge "thank you" to all those that attended with their engines or cars, to the visiting public, and to the club members that busied around and helped make it a successful day.
---
Below are photos of the visiting locos with their owners.
Thank you to Andy Stevens for the photographs.
---
Below are photos of Evergreens members and locos.
Thank you Andy Stevens for the photos.
---
The beautiful classic cars on display.
---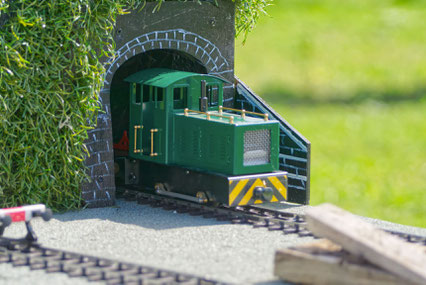 The gauge 1 Garden Railway was running.
Thank you Andy Stevens for the photo.
---
Two photos of youngsters having a fun time on loco and car.
Thank you Juliet Bool for the photos.
---
Once again the Food Station (catering van) was kept busy, and on this occasion free cupcakes were given out to the first 100 people through the gate.  This was to celebrate the 'birthday' of Evergreens Miniature Railway's start up.
An iced cake was enjoyed by members and friends at the close of day, along with some nice (non alcholic) drinks,
very good too ......here's to the next 20 years!
Thank you for the photos to Helen & Andy Briggs, Juliet Bool & Andy Stevens.