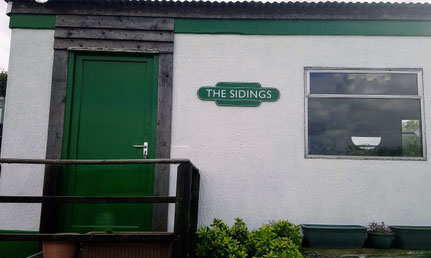 This is the porta-cabin which members use for shelter whilst working on the railway which looks so good now it has been repainted.  Even been given a smart 'totem' name sign stating it's name 'The Sidings'.
It is temporary because when funds and work force allows Evergreens will have a brick building. 
 Something different at Evergreens.
Just in case anyone had forgotten, we (EMR), are really a model engineering club and as such, have from time to time, the odd rare piece of model engineering that isn't railway related.  What we have here is a nicely made version of a Stuart Turner No. 9 horizontal steam engine with a Kennion's vertical boiler, made by one of our newer members. It was brought to the site for a boiler test last week.  Of course anything that involves steam and moving parts soon attracts the attention of anyone around......so work stopped for a while, just to admire the engineering involved.
Saturday 5th September saw a members day take place.  Very happy and grateful it took place too, the first proper get together since March of this year.
The government safety guidelines had been sorted through and questions to the county's health adviser were sought before enabling the day to go-ahead,
This shows a young member leaving the 7.25" gauge station with family seated behind him.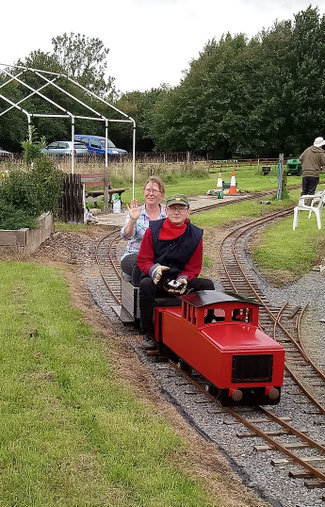 Members Day of 5th September. 
An enjoyable day with approx 34 members in attendance and 4 loco's running on the 7.25" gauge track.
This shows a son and his mum just leaving the station on a loco that has been worked upon during this year by the son and his grand-father.  They also made a very good 'paint job' to the loco too.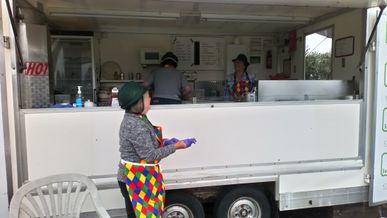 Members Day of 5th September.
The catering van (named, Food Station) was used for any members that might want hot food and drink.
One lady wore a face shield for the whole time she was working in the van, just to be COVID safe.
As is always the case hygiene was of the upmost and Evergreens has held a 5 star Food Standards Agency rating for when catering to the public.   Which incidentally Evergreens are currently looking into the safe practice way of opening up for the general public to ride trains with us once again.