17/08/2023
Evergreens will be attending the annual Lincolnshire Steam and Vintage Rally.
It is held at the LIncolnshire showground and is Saturday and Sunday 19th & 20th August.
30/07/2023
During the month of August there will be trains running on Wednesdays.
Ride as many times as you wish during the time of 11am to 2pm
Children £4 and their accompanying adult will be free entry.
Adults on their own will be charged usual price of £4 each.
---
29/06/2023
A huge "Thank you" goes out to Balfour Beatty via the Viking Link project, for they supplied and laid down stone to enable Evergreens to have a roadway at the north of the field.  They also extended the public car park.  Evergreens members are very grateful, this action is much appreciated. 
---
07/05/2023
Evergreens has within the grounds a Gauge 1 (45mm) garden railway.
Early days and still under construction but if you would like to become involved
with this project and join the club please contact: philippaanddavid@gmail.com
---
07/01/2023
On Sunday 5th February 2023
Evergreens will have a stand at a Model Show
held at The Beonna, BENNINGTON, Boston.  PE22 0BT. 
Come and have a look and chat to our members.
It is from 10 am to 3 pm
Adults £3, children free
Cafe open too.
---
09/09/2022
Everyone at Evergreens Miniature Railway is saddened at the death of
Her Majesty, Queen Elizabeth ll.
Our thoughts and condolences go out to the Royal Family at this difficult time.
Rest In Peace
Her Majesty The Queen
1926 - 2022
---

Evergreens has a display of members models at the -
35th Lincolnshire Steam & Vintage Rally
Saturday 20th and Sunday 21st August 2022
at the Lincolnshire County Showground
The rally raises money for local charities (Charity No. 519832)
---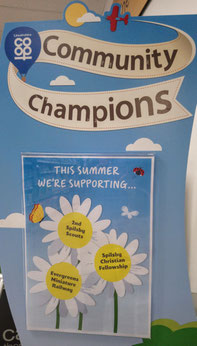 22/06/2022
This Summer Evergreens is one of three recipients to benefit from the Lincolnshire Co-op Community Champions scheme.
So if you shop at any Co-op in the Spilsby area please use your dividend card so the fund will accumlate, this is at no extra expense to yourself. 
---
13/05/2022
Great news!
Evergreens has been successful on being voted to be a Lincolnshire Co-op Community Champion.  This for the Spilsby area so if you shop at Co-op make sure to get your Dividend card scanned when you pay! 
Starts in June and runs until September. 
---

07/04/2022
Did you know that Evergreens is standing for election?
To become a Community Champion ....
It is something that the Co-op promotes in its stores.
If you have ever shopped in a Co-op you may have seen a board that states which cause that funds are currently being donated to. It does not mean you personally give money, just when you pass your dividend card to the cashier along with your payment.....then the Co-op kindly adds a percentage of the money being raised for the Community Champion cause (Evergreens....hopefully!).
BUT ..... in order for Evergreens to become a Community Champion, we have to get chosen and this is where we need votes! The most votes will win the place as Community Champion.
You can vote for different areas, so worth a look on the Co-op website to see if you can vote for us.
Evergreens are in the Spilsby catchment.
Please vote for Evergreens.  Voting closes 24th April. ......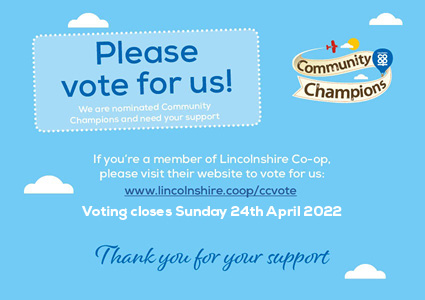 ---
23/03/2022
Come and talk to members of Evergreens as some of them will be attending the
Frampton Model & Miniatures Show
to be held on Sunday 27th March open from 10 am to 4 pm
It is at St. Mary's Church, Frampton.  PE20 1AD.
There will be lots to see.
Displays of boats, trucks, farming displays, dolls houses and miniatures, fairground and many more models.
Entrance fee is Adults £3 and Children free
Refreshments available
Proceeds going to Friends of Frampton Churches.
---
17/09/2021
**** GIFT VOUCHERS ARE NOW AVAILABLE FOR USE AT THE RAILWAY ****
In values of £3, £5, or £10, the vouchers can be used for admittance to the site on an open day,
used for purchasing food and/or drink from the Food Station,
or to go towards the cost of becoming a member of the railway.
If you would like to present someone you know with a gift voucher for use at Evergreens Miniature Railway
please contact our treasurer on Email: evergreensrailwaytreasurer@gmail.com
or Text - 07593 233659
Vouchers will also be available at the entrance gate on an open day, just ask.
*** Please note: The Food Station will be unable to issue any change should the purchase be less than the voucher value ***
---

After the awfulness of COVID .... Saturday 29th May 2021 saw
a fantastic first day back to opening up to the public.
Glorious weather, lots of trains and lots of happy passengers.
A very big thank you to all the 'Evergreens' volunteers who helped, and an even bigger thank you to all the lovely people who turned up for rides.
A really great time - hope to see you at next months open day.
Thank you to 'Dawn Bank' neighbour Graham for this aerial photo
---
COVID restrictions have been eased somewhat, but we all must stay safe and that means observing the - Face, Space & Hands routines.
EMR will have in place some rules to be 'COVID compliant'.
This involves the use of 'track & trace' contact details when you enter the site.  We will try to make the process as quick and easy as we can.
Hand sanitisers will be readily available around the site and we encourage the use of.
The train coaches will have to be wiped down between passenger riding, this will slow down the turnaround of trains.
Around the 'Food Station' we will ask you to stay 'socially distanced', this area will be sign posted.
There will be sprays and/or wipes in place for the tables and chairs near to the 'Food Station'.
No need to pre-book.  Cash or card payments accepted.
 There will inevitably be queues so we ask for your patience, understanding, and help in making it a fun and happy day, with many more to come.
---
Thank you to all the people who came along to our very first season of running trains at the new home of 'Dawn Bank' in 2019.
We were so thankful to have been able to offer rides on trains again, and delighted to hear all the positive comments.
A big thank you to the classic car enthusiasts & the MX5 owners club for exhibiting their fine vehicles at the two August open days, it really gave an extra special something to the events.
---
We have been lucky to have gained a lot of support from the Triton Knoll project thats going on in and around Lincolnshire. They have been kind enough to donate some much needed materials for the re-build of the railway.  Here's their latest press release, the full story can be found on their web site   http://www.tritonknoll.co.uk/evergreens-railway/
"Evergreens Miniature Railway off to a flyer following Triton Knoll donation.
A miniature Railway club run by volunteer enthusiasts has steamed ahead with the opening of its new home, in part thanks to a donation of recycled materials by Triton Knoll offshore wind farm and its contractor J Murphy & Sons Ltd.
 Over the last 18 months, the Evergreens Miniature Railway club in Lincolnshire has moved from its original home in Stickney to a new site in East Keal, and its members have been working hard preparing the site to reopen to the public.
The club consists of local volunteers, mainly retired residents, who all have a strong interest in miniature railway. Most of the equipment and tools it uses have been provided by the volunteers themselves, but due to a lack of funds and resources, it has had to use temporary plastic fencing as a safety barrier either side of the train tracks.
 J. Murphy & Sons Ltd and Triton Knoll Offshore Wind Farm Ltd have now provided their support to the club by donating wooden slats for a new stretch of sturdy fencing to replace the plastic material previously used. The wooden slats had been used by Murphy to cover and protect the project's onshore electrical cables when they were delivered on large cable drums to Lincolnshire earlier this year. This donation has helped to improve safety on the site, ensures visitors can view the model trains safely behind a new, robust and more sustainable fence.
 Chairman of Evergreens Miniature Railway, Philip Wiseman, said: 'The timing of the donation could not have been better as without it we would have been forced to rely on a weaker, plastic, temporary fencing, which is never an ideal situation. Thanks to Murphy and Triton Knoll, our railway is now open to the public to enjoy in a safe and sustainable way.'
Scott Marsden, Murphy Project Manager for Triton Knoll, said: 'We are delighted to be able to support Philip and Evergreens Miniature Railway club by recycling our project materials. We recognise the members put a lot of their own time and resources into making it a success, and although only a small gesture, we hope the fencing helps play some part in ensuring the longevity of the club.'
 Triton Knoll Package Manager, Martin Knagg, said: 'Safety is one of the main priorities for Triton Knoll and we are pleased to see that Murphy is not only ensuring this is applied to all its construction work, but is also working with a local community group to improve their own site safety.'
Once a month between Easter and October, the club organises public open days for the local community to visit the railway. In addition to offering visitors an enjoyable day out, the club has ambitions to spark interest in engineering among younger members of the community and even inspire them to pursue a career in the industry after they leave school."
---
We are also very grateful for the support we have had from
Shires Toilet Hire
and
Vale Road Tyres of Spilsby
---
It was another great day last Saturday at the EMR running day.
A fantastic day weather wise .... although a little too warm for most of us, but better than the rain !!
Here's a link to a super video taken by our visitors Chris & Rosie. You can see them in the video driving the blue steamer 'Hurricane'.
https://www.youtube.com/watch?v=7sDe1UKBVzk
---
Saturday 25th May 2019.   10:30 – 4:00pm
We are back up and running !! ….. well not quite yet, but we are thrilled to be having a day for everyone to come for a train ride and see what we've been doing and what plans we have for the future.
There will be train rides on the first parts of the new track, and food drink available similar to what we used to do at Stickney.
And we've managed to keep the entry charges as they were, so its £3 per person or £8 for a family group for entry on to the site, then free train rides all day.
And of course, free on site parking.
So make a date in your diary .... Saturday 25th May.
So fingers crossed for some good weather and hope to see you all there.
---
We are now in a position to be able to hold birthday parties at our wonderful new site at East Keal.
Please contact us here or on our Facebook page for more details.
---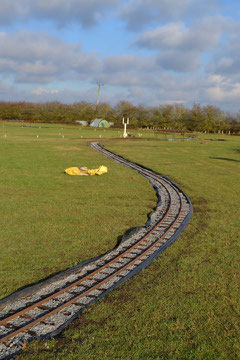 Each week another section of 7 1/4" gauge ground level track is laid at the rebuilding at new site/home.
---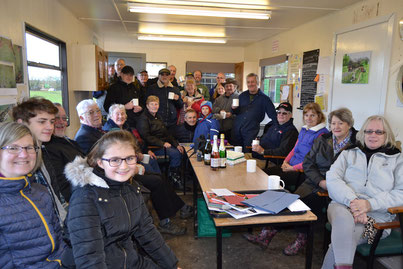 Our first 'proper' New Years Day meeting at the new site. We did have a bit of a get-together last year, but the weather was rubbish and we didn't have any shelter from the elements and certainly no track to run on.
This year, however, was a different story. The forecast was for a dry, but chilly day and it lived up to it. But we do now have some temporary shelter complete with electricity and running water, so quite comfortable really.
A big thank you must go to the people involved in getting the site to its present level. There's been a tremendous amount of work done in less than a year.
As you can see from the pictures, there was quite a good turnout of members, their families and friends. Seen here celebrating our first year on site.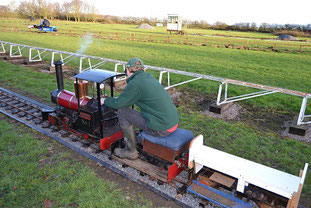 A few locos running too. Two or three 5" on the raised track and one 7.1/4" on the stretch of ground level we have ready.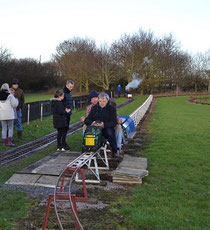 With driving lessons being given for both steam & electric locos.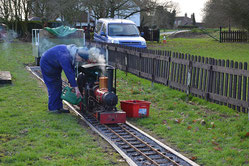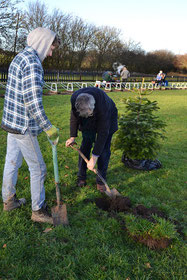 To mark the occasion we planted a Christmas tree inside the raised track loop.
This will be the first of many trees planted, and should keep the name 'Evergreens' in everyone's mind.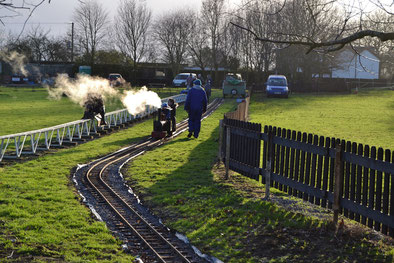 The afternoon winter sun setting on a lovely day at Evergreens Miniature Railway. 
---
Update September 2018

 The 5" raised track is now a complete loop - here's one of our members having a test run.
https://www.youtube.com/watch?v=QC0lwayV7NY
And the first short section of the ground level track is running too.
https://www.youtube.com/watch?v=KxAMnOCdVjA
---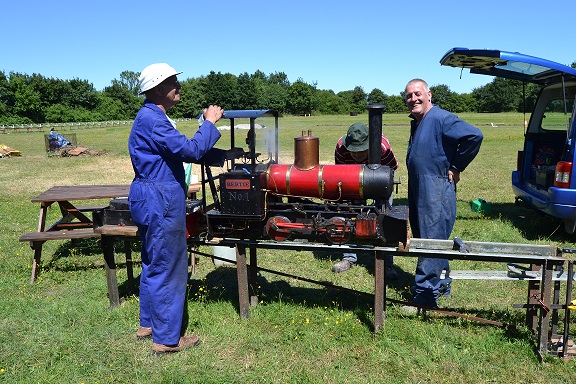 ***************************************************************************************************************************************************
The raised 5" track is coming on well and we nearly have a complete loop, won't be long before it will be ready to run on.
Here's a YouTube clip of some of the work being done.
https://www.youtube.com/watch?v=dFrs8Eica_k&t=1s
***************************************************************************************************************************************************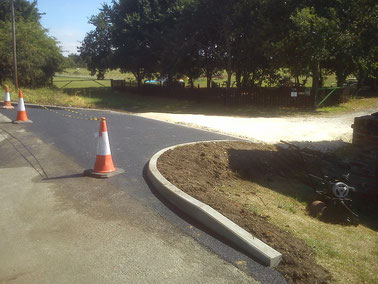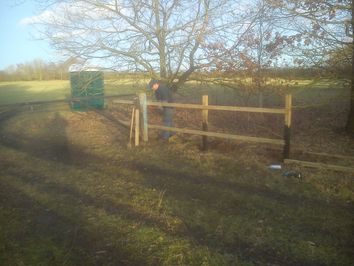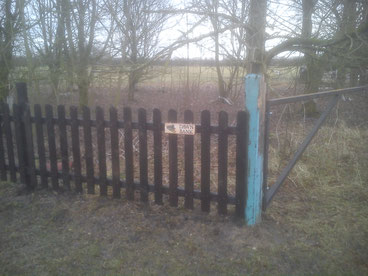 Evergreens Miniature Railway
is delighted to inform all our followers and interested parties that we now have the go-ahead to relocate to a new site. 

The new field is only a short drive North (on A16) from the railways previous home at Stickney.
The new postcode is PE23 4AE.
It is approximately a 4.5-acre open, flat field with trees to each corner.
We have named the site 'Dawn Bank'
Thank you to all those who have enquired about us and wished us success.
Keep logging in for more updates.
Our full address is now :-
'Dawn Bank', 
Keal Bank,
Keal Cotes, Spilsby.  
PE23 4AE