A Stanier Class 5, 4-6-0, commonly known as a 'Black Five', this is no. 45441.   Newly acquired, and here having it's first ever run at Evergreens.  Some necessary 'tweaks' with the owner hoping it will then be hauling passengers on the August open day which is fast approaching.
***Update***This 'Black 5' WILL be running on open day of August 28th 2021 ... excellent! 
In the foreground they are putting in place and joining up track for the 7.25" gauge sidings.
The lady in the middle of the photo is getting rid of weeds and tidying up.
In the background the gentleman is making the track panels for the sidings.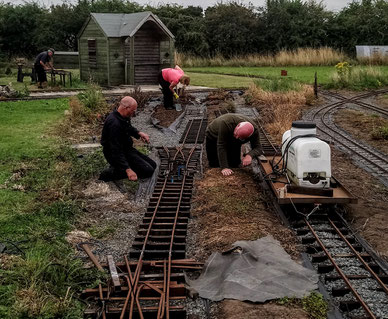 Raising steam of a 7 1/4" gauge tich, which soon smoothly ran around the track.