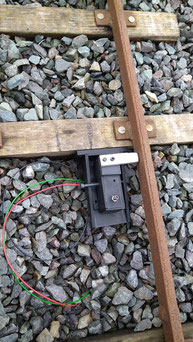 Experimental track switch.
To operate signals we need to detect trains passing certain sections of track. Kev B tried using, at the end of last season, some ultra-sonic sensors to detect trains. This works fine, but needs a lot of setting up and is expensive.
So Kev B has reverted back to using micro switches housed in a 3D printed box.
The housing is in two parts, first part stays screwed to the sleeper.  The second part, containing the switch, can be removed to allow us to test different 'treadles' for the wheel to press.
This picture shows a typical switch ready for the wheel flange to run over.  In the final version the treadle will be adjustable both in height and closeness to the rail.
***   ***   ***   ***   ***   
The photos below show the two roads coming off from the turntable.  One goes down to the mainline track and sidings, the other goes to the preparation bays and then onto the unloading traverser.  On Saturday the gap between the two roads had a foundation put down and filled in, then a membrane covering.  This will enable another road to be put in place, and this will become a second road to go to the mainline track and sidings.
***   ***   ***   ***   ***
This area (photos below) from start to finish, thats, digging and concrete for unloading traverser, the metal frame supports, all the welding, the rail bending, the rechecks, the spirit level everywhere, more digging, more concrete, the how many welding rods used?! has taken some doing  ...  So a well deserved pat on the back and "thank you" to Barry, Tony, Andy, and not forgetting Martin.
And with Sundays fine weather two of the Evergreen chaps got cracking on with connecting the rail which goes all the way from the unloading traverser to the turntable.  Excellent work.  Concreted the frames into place with stanchions for support in the holes dug, and wood shuttering for concrete where the frames sit on a higher level.