Fantastic that there were two visiting engines to our June open day.
A big thank you to Richard (with 'Balrog') and Nigel (with 'Orinoco').
Evergreen members knew of and had seen 'Orinoco' run before,
but 'Balrog' was a new to us all, and wow, what an engine!
Thank you again gentlemen for visiting with your engines.
---
A lovely Summers day with everyone in good spirits,  a nice time had by all.
Thank you to all the visitors that came to ride on the trains, some new to visit, some returning, and then there was a couple of families that have been visiting us since the Stickney days, so thank you for staying with us
.
Above photos are of some of the engines that were in action.
During the day there were three locos running on the 5" gauge,
and at one time there were six on the 7 1/4" gauge. 
---
Headboards made especially for our Queens Platinum Jubilee.
The red one is Richards which was in place on the visiting 'Balrog',
and on the right we see Western Belle - 'Sandy' with headboard.
---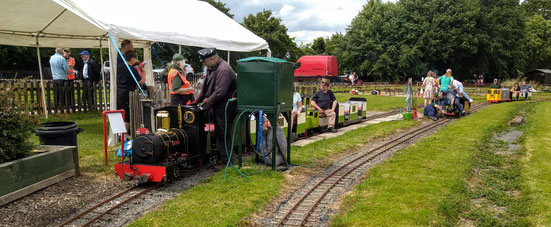 Looking at the 71/4"
gauge station from the South. 
---

Looking from the North side of the field.
---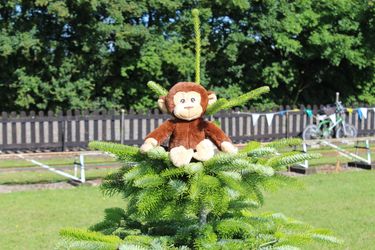 A monkey in a tree!
Some of the chaps can be 'right little monkeys' (to put it politely!), but we do like to have a bit of fun.  Made me smile.
---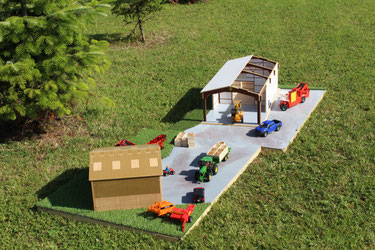 Model engineering and model layouts go well together and this is a great miniature farm layout.
Nice to see it on display.
Lincolnshire a big farming county.
---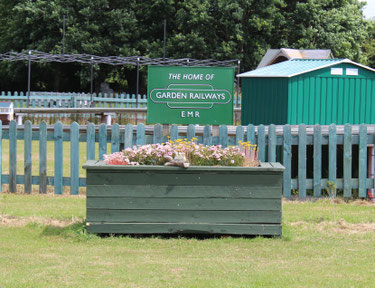 Pretty flowers happily growing in what once was a big white bath.
Our head gardening lady June is really keeping Evergreens as neat, tidy and flowered up as can be.
---
Thank you's go to B. Burrell, K. Bennett & K. Auger for supplying above photographs