Photos above of the Wednesday Workers
Wednesday's and Saturdays are the main days that members can be found both maintaining, and in Evergreens case, building up of the railway.
Grass mowing is an ongoing thing in the summer months.
In awkward to reach areas grasses can grow tall and these are being dealt with.
Timber is being looked over and selected for the use of building more fence sections...........but then, the fencing that is in place needs to keep being painted with preservative.......... Keep going guys and gals, you are doing the club proud.
 On some occasions there are engines to trial.
---
One Wednesday 'Lady Ann' was brought along to trial having had much work on restoring her to working order.
A Simplex built in Belfast in 1999, it had not run for 6 years.  Needed boiler out of frame, repairs to wet header and a few other fitting repairs.
---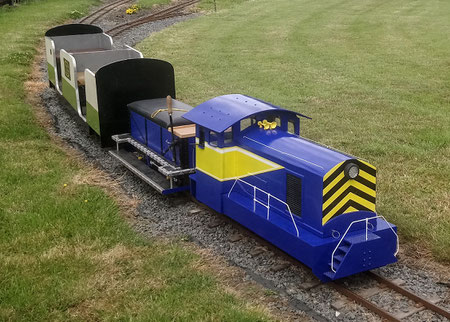 A satisfactory trial run took place on Wednesday of this freelance diesel outline,
0-4-0, 24v twin motor engine. 
...... and of course .... two ladies of the club, just had to have a sit in a coach behind.  Happy to say the new, nicely produced engine, ran smoothly and effortlessly.  Nice one.
---