A shuttering frame made ready to retain the concrete for a level crossing.
Continuation of the work to link the line between the North end trees.
New sleepers fitted to rails and more track ballast added. 
---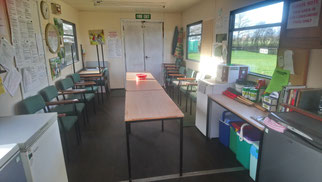 Our lady 'that does' has done a fine job of tidying and cleaning The Sidings.  
The Sidings porta-cabin is our shelter in bad weather and somewhere to sit when drinking tea and dunking biscuits.